Welcome to Affirm
The Home of Gender Affirming Therapy
About Affirm
Our book is finally here!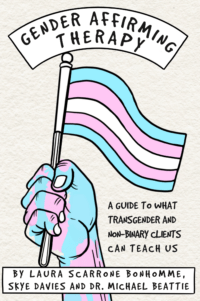 We're so happy to announce that our book, Gender Affirming Therapy, is published this week!
Our sincere thanks go to everyone who supported us in making the idea of the book a reality. From the editorial team at Open University Press, Dr Alex Iantaffi who generously wrote the Foreword, and Fox Fisher who created our amazing cover art.
And, of course, to our clients, without whose openness and example, there would be nothing to say!
Courses
The problematic question of passing
Listen to the podcast
In conversation with Justin Hancock
We were delighted to be invited by Justin Hancock to join his podcast Culture Sex Relationships to talk about the launch of our book Gender Affirming Therapy.
We talked about the need for this book right now. How trans and trans non-binary folk face such scarce resources and also an increasingly hostile and transphobic government. But also how the discourses around gender diversity may have produced an anxiety for health care providers in 'getting it right' and how this doesn't serve clients or themselves.
Introducing Talkfests